Eat Right
Breakfast is your most important meal. Eat breakfast every day.
Try to eat five to six smaller meals and snacks daily, not two or three big meals.
Drink at least eight glasses (64 ounces) of water every day.
Eat a diverse, well-balanced, healthy diet rich with fresh, whole foods.
Minimize simple sugars, processed foodand …definitely avoid fast food!
Live Right
Give yourself break time every 90 minutes throughout your workday.
Live active. Get some activity every day.
Do at least two to three cardiovascular
workouts and two strength training workouts every week.
Sleep Right
Go to bed early. Wake up early.
Keep bedtime at the same time every day.
Wake up at the same time every day.
30:90 Program Nutritional Support
---
7 Day Cleanse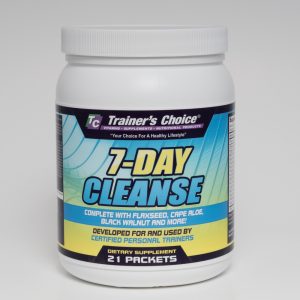 Trainer's Choice 7 Day Cleanse will rid the body of harmful toxins and unwanted chemicals by naturally detoxifying your colon, kidneys, liver, lungs, digestive system …. This is a great way to kick-start the 30:90 weight loss program!
Directions: Take one packet mid- morning, one packet mid-afternoon, and one packet at bedtime for seven days. 7 Day Cleanse should be taken in conjunction with a sensible diet including fresh fruits and vegetables as well as at least 64 ounces of water daily.
Ultra Whey 26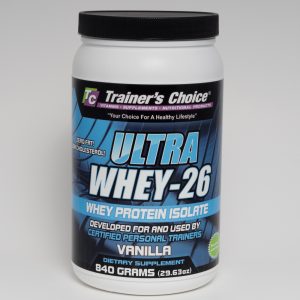 Trainer's Choice Ultra Whey 26 is 100% whey isolate protein. It comes in great tasting chocolate, vanilla and strawberry flavors. It is all-natural protein with no fat or cholesterol, gluten-free and has zero sugar. Made with Stevia, a sweetener extracted from the stevia plant, this product is low glycemic and is diabetic safe.
Directions: For a lower-calorie between meal snack, mix with water for a delicious shake.
Ultra Whey 26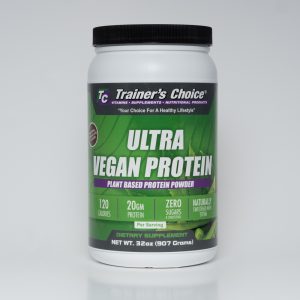 Trainer's Choice Ultra Vegan Protein is a 100% complete plant based protein powder. Our new Vegan Protein combines three powerful plant-based protein sources, fusing the individual benefits of pea protein, organic hemp protein, and sacha inchi protein.
Directions: For a lower-calorie between meal snack, mix with water for a delicious shake.
Brazilian Burn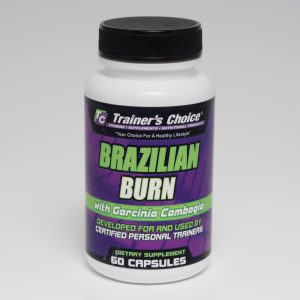 Trainer's Choice Brazilian Burn helps your body utilize fat as an energy source. This supplant, specially formulated for Trainer's Choice, is an all natural metabolism booster that contains Green Tea, Garcinia Cambogia, Acai, Apple Cider Vinegar, Kelp, and much more!
Directions: Take 1 capsule in the morning and 1 capsule mid-afternoon.
His-Pak and Her-Pak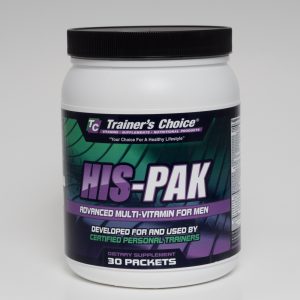 Trainer's Choice His-Pak and Her-Pak is an all-natural multi-vitamin/multi-mineral scientifically formulated just for men. It includes a fruit and vegetable complex, a full daily serving of fish oil and Omega 3,6,9 fatty acids and conjugated linoleic acids (CLA) to help reduce belly fat and give you a healthier heart! It also has fiber, digestive enzymes and probiotics for proper intestinal health, caffeine-free green tea and ginseng for natural energy and an herbal men's support formula exclusively for a man's good health!
Directions: Take one packet daily with food
Join Our Weight Loss Program and See Real Results Like Many Before You!
---
"I lost 36 pounds use the 30/90 Program! Thanks, Trainer's Choice!" – Cheryl
"The 30/90 program helped me lose over 40 pounds!" – Hank